Last day to squeeze in one more blog post! I haven't been around here much this December. That's because I rather overbooked myself with handmade Christmas. Then we traveled to GA for the Holiday (lots of fun, despite the cold I brought home with me--boo). And to top it all off, I got a last minute commission from Knit One Crochet Too for a new pattern they want to debut...next weekend. Been a little busy--as you can imagine. At least it's better than being bored, right?
My current test knit project hasn't been released yet (how cool is that) so I can't show it to you just yet--that and I'm not quite finished with it. Guess how I'm spending my New Year's Eve. Not that I would want to be anywhere other than parked on my couch with a knitting project and a glass of wine :)
So, here is a crash course of all the handmade gifts I've neglected to show you over the last couple of weeks. I promise a more in-depth post once I've finished this next test knit. I am on a deadline ;)
First the knits:
A couple of ornaments for an online ornament exchange, courtesy of
Knit Picks
and
Karolina Eckerdal,
both in Palette:
Some gloves for Dad, from
Never Knit Your Man a Sweater*
in Swish Worsted:
And a scarf for FIL,
Cerus Scarf
by Hillary Smith Callis:
I wasn't planning on making anything for him, but was having a really, really, really hard time coming up with something for him for Christmas. Turns out he's going to be taking some depositions in northern cities and very specifically wanted a *cardinal red* scarf to go with it. I thought I wouldn't have time to finish it, but I managed to squeak this one in about 2 days before we left!
The time it took to knit it could have something to do with the pattern--it is lovely and very masculine, but it makes for a very thick fabric and one that doesn't knit up very quickly. I recommend it highly, but not for projects that you need quickly.
Also, if you get the chance, give Knit Picks Full Circle a try. It's made from recycled wool and merino fibers and comes in some really beautiful, vibrant colors. It is a bit splitty, so it wasn't really the best choice for so thick a fabric, but it's airy, warm, and super soft. I plan on ordering myself more as a belated Christmas gift to myself :)
And now a bunch of non-knits:
I mentioned in my previous post that I am trying to enhance my sewing skills (up from nil). I decided to give this
quilted oven mitt pattern
a try. I think it came out well!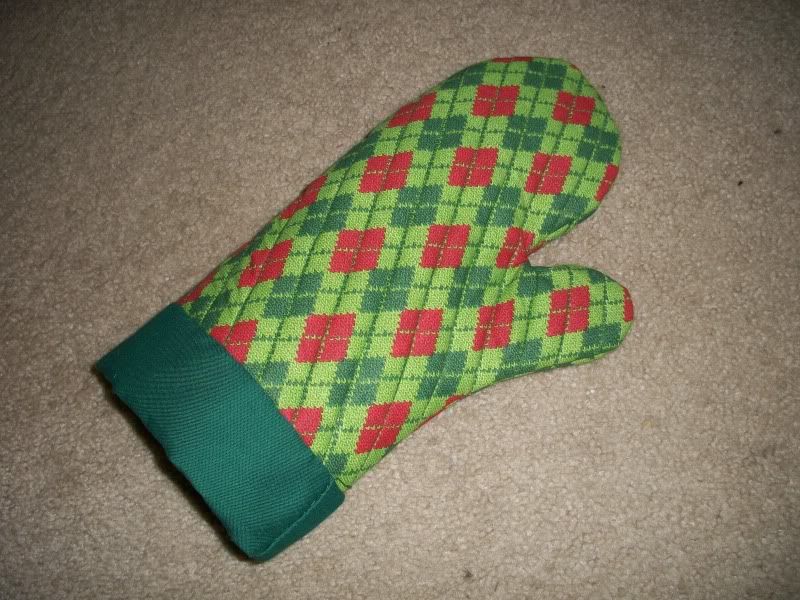 I made one for each of our mothers and they really seemed to like them!
I also tried this
etching tutorial
(really, it's amazing what you can find on Pinterest!) to make some personalized wine glasses for friends and family--look how pretty!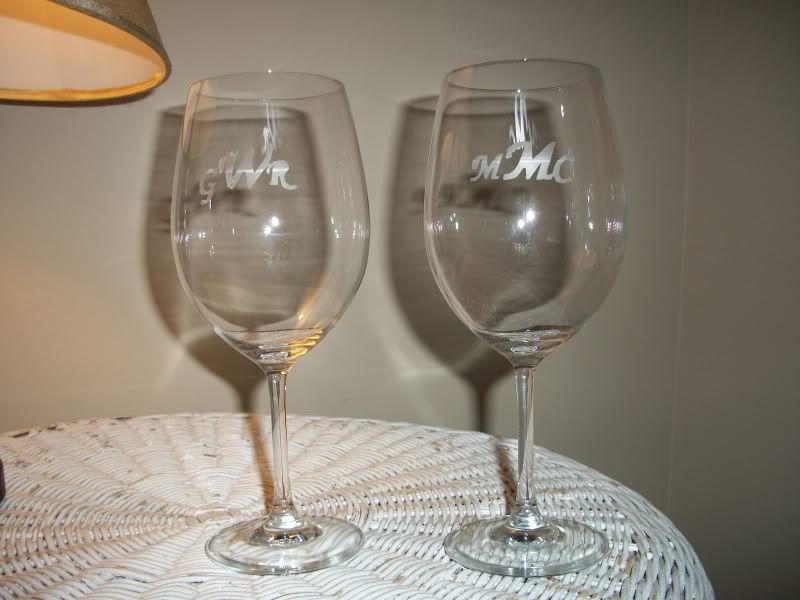 It was a little tough to cut those shapes out of masking tape, but totally worth it. I think that etching cream was one of the best investments I made this season! Definitely making one of these for me in the future.
Did you get any fun crafty gifts this year?
I hope you all have a very Happy New Year. Hope 2012 treats you even better than 2011!
Cheers,
-Allie