An actual, full-sized person sweater! Hurray!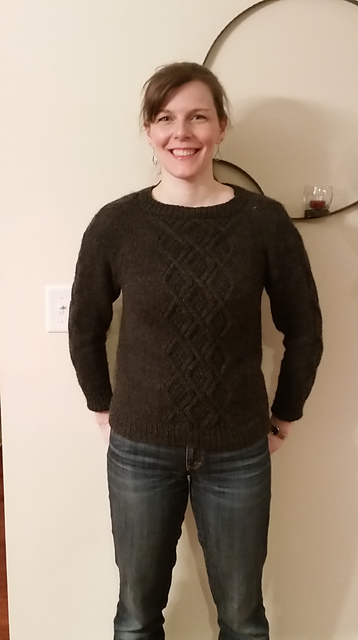 Please excuse the terrible lighting - I was just so excited to finally have my husband home and available to take pictures (poor thing's a tax accountant :( ). Can you just see the delight in my face? It could be Walker's presence...or it could be that sweater. It's just that pretty.
I really love this sweater - it's so cozy and warm and look at all the pretty cabling down the front! It's mirrored on the back and, to a lesser extent, down the sleeves. I wore this bad boy skiing a few weeks ago and barely felt the cold! I probably couldn't say the same thing if I were to venture out today, but that's February in New England for you. -21 degree windchill just hurts my fingers to type!
I ended up making it a little bit wide for myself - you can especially see that in the sleeves, but that means it's the perfect size to wear over a blouse to the office. I swear I must have the coldest corner in our building, so I expect that this sweater will be making many an appearance before spring comes.
The patter is
Rook
by Kyoko Nakayoshi. It took me a couple of tries to get started, but mostly because I didn't like the raglan increases as written. They seemed to like yarn over based increases and, frankly, they look a little sloppy to me on a cabled sweater, so I changed it to lifted increases. You can actually see a little hole on my left shoulder where I tried and abandoned the yarn over increases. Live and learn, right?
I also made the mistake of overestimating the amount of yarn I would need to make this sweater, but that just means that I get a matching hat now, too!
This one's another Brooklyn Tweed pattern by Jared Flood: Skiff. I looove huge cabled patterns like this one - it means they never got boring! They're simple enough that you can memorize the shape of it, but you don't get bogged down in endless repeats.
The yarn I used for both of them is Knit Picks Full Circle Worsted. I really like it for cables - they tend to pop nicely, plus it's super soft. Beware, though, it's not an easy yarn to work with. It's not spun very tightly (at all), so watch out for splitting. And don't abuse the finished garment since it tends to grow a little. Or a lot, in the case of my first foray into cat sweaters (I still have a small bump on my forehead from chasing him under the dining table!). Do not use this yarn for pet garments! The looseness does give it a considerable amount of loft and a lot of insulation, though - super warm! Great pieces for a cold day like today!
What is your favorite yarn for bitterly cold days?
-Allie